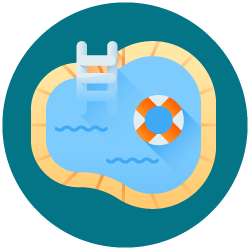 Based on recent feedback, the Board has made some changes to the pool reservation procedure.

The calendar for each location will be posted on Thursday by noon for ONE WEEK (Friday-Thursday). You can still only sign up for one slot per day, per household, total. If you sign up for more than one reservation per day, the first reservation will be kept, and the others deleted. We will no longer send emails asking you to delete additional reservations. The patrol officer is notified of the duplicates and entry will not be permitted. Please pay special attention to the fields required and fill them out accurately. If a Portola Springs address is not used, the reservation will be deleted. Your full address is required. The comments field is to add the total headcount of your party (number only).

Q: What are the hours the pools are open?
A: Lap swimming pool- Orchard View-292 Borrego 6 AM until 6 PM, Open Swimming Pools Greenfield-155 Walkingstick and Lomas Valley-95 Ranchland 8:30 AM until 8:30 PM.

Q: How do I make a reservation?
A: Please visit the LINK BELOW for the location for which you wish to make a reservation. You can make one reservation per day, for only one location. Reservations are required for open swim AND lap swimming. For added security, the access code for the reservations is PORTOLA
The time slots for the Orchard View pool will not change, but will be dedicated to lap swimming only. All times slots for Greenfield and Lomas Valley are for open swim.

If you have any questions, please email Kara Foley at kfoley@keystonepacific.com.